With just a week to go until Pancake Day (Tuesday 21st February 2023) we thought we'd share some ways to turn annual Pancake Day celebrations into fundraisers.
Pancake Day, also known as Shrove Tuesday or Mardi Gras, is celebrated every year on the Tuesday before the beginning of Lent. Traditionally, it was an excuse to use up all the things in your cupboards that you might be giving up for the 40 days and nights leading up to Easter Sunday.
Nowadays many people celebrate this day by making pancakes – Providing the perfect opportunity for some flipping good fundraising!
Pancake Day Fundraising Ideas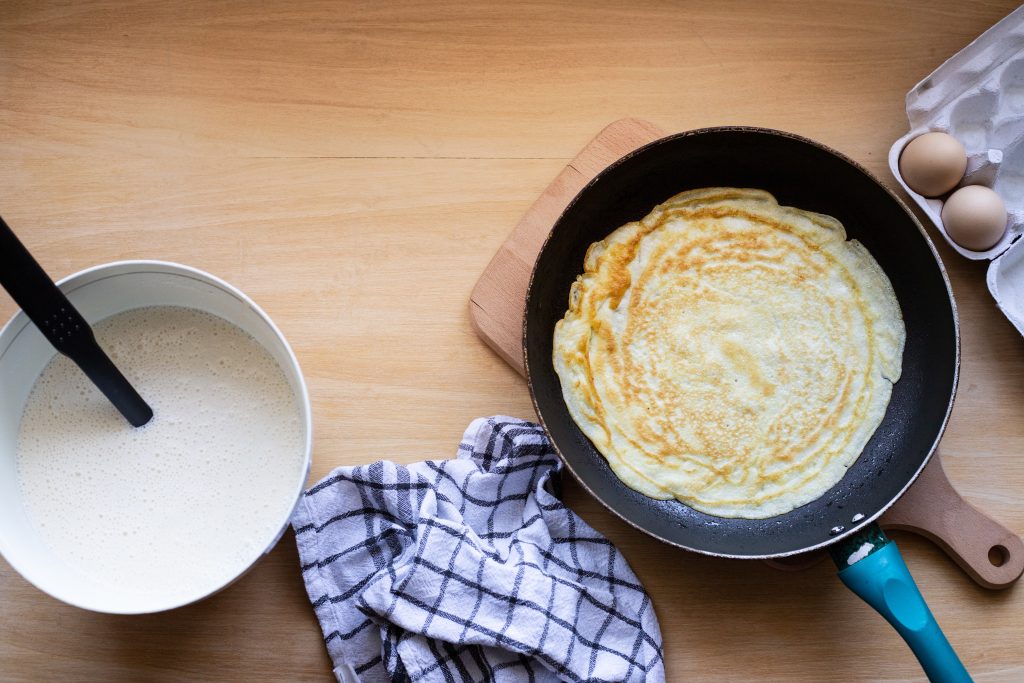 Pancake Race
Ideal for a school but could also work well for a workplace with access to a large open space. The fundraiser would include the people taking part in the race as well as people sponsoring their favourite to win. Award a prize for the 1st, 2nd and 3rd place contestants. Make it even trickier by getting them to flip a certain number of times along the way!
Flipathon
A pancake flipping competition is a super fun fundraiser. Who can flip the pancake the most times within a set time? Create a pancake flipping tournament, pitting people against each other to compete for the highest number of flips! Don't forget a prize for the winner!
Highest or Furthest Flip
This one would work well alongside another event with the opportunity to provide refreshments and pancakes, of course! Have a bar that they have to flip the pancake higher than, or a course that measures the distance they can toss it. Don't forget to chance a fee to enter, and provide a small prize for the King or Queen of the Flips!
Pancake Breakfast
Whether you provide somewhere to eat them or give them for on-the-go, hosting a pancake breakfast for your school or workplace is a great way to fill everyone's tummy for a productive working day at the same time as raising money for your chosen charity or PTA.
Charge a fee per pancake – Or have an 'all you can eat option' for a fixed price.
Can We Help You Raise Money Digitally this Pancake Day?
Here at Donater we have a suite of fundraising tools specifically designed to make giving easier. Easier for the donor to make a donation, and easier for charitable organisations to receive that all-important fundraising.
Our suite of online fundraising tools include:
A dedicated online fundraising page, personalised to your charity or good cause. Supporters will immediately recognise your branding and thus, trust that they are in the right place to make a donation. Online fundraising pages are easy to share online via a handy link, and can be easily linked to your website with a 'Donate Now' button.
QR codes. You'll know how quick and easy it is to scan one with your smartphone. QR codes can be just as handy for taking donations. All your supporter has to do is scan the QR code with their smartphone, and it will take them to an online donation page. Once there, they can choose to donate with a tap via Google Pay or Apple Pay, or pay with their bank details. QR codes are a great addition to any physical marketing about your event, such as posters or newsletters as well as transforming a traditional donation box into a mobile way of taking digital donations.
NFC Tags. Our NFC tags take the above QR code concept a step further, and enable any supporter of yours with an NFC enabled smartphone to merely tap the tag or sticker. They will then be taken to an online donation page where they can make their donation quickly and simply. These work better with in-person events, but could easily be placed at the entrance to your charity or on collection boxes so visitors can donate to your cause if they wish.
Please get in touch if you think Donater could help boost your donations digitally. We'd love to see your flipping fantastic fundraisers this pancake day – Why not tag us on Facebook or Instagram?